Child parent therapy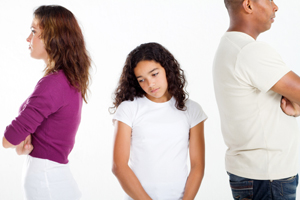 What is it?
Being a young person can be a very difficult phase in an individual's life. The passage into adulthood is not only complicated by a torrent of physical, emotional and psychological changes which frequently cause confusion and distress, but also by external pressures from schools, peer groups and society in general.
For parents, who ultimately want the very best for their children, things can also be immensely difficult, but they are often at a loss as to how to deal with some of the situations that face them. As a result, the relationship between them and their children begins to deteriorate before their eyes.
Child- parent therapy helps empower parents to feel good about themselves and their abilities, plus enabling them to improve the relationship with their children and teach them new skills such as enhancing their communication or conflict resolution.
How does it work?
Rather than just treating the symptoms of issues, Alexandra will work with you to create lasting change. She acknowledges that a 'one size fits all' approach doesn't work instead of offering a standard package, assesses each case on an individual basis and creates a tailored programme to suit the needs of each and every client.
It may be that just one parent wishes to attend alongside their child or children if they are having particular issues. At times, it may be beneficial for the whole family to attend though this can be discussed in the first session.
How can it benefit me and my family?
Often having someone outside the situation who is experienced resolving these issues helps us to create desired change. Although we all like to think we are able to cope, learning skills that facilitate better communication or can equip us to deal positively with issues in the future so they no longer occur. This may include issues such as:
· Family Relationship issues
· Behaviour Management
· Conflict resolution
· Communication difficulties
· Sibling jealousy
· Eating issues/disorders
· Bereavement
· Stress Management
· Separation/divorce
· Anger management
· Depression/ Anxiety Disorders
· Self esteem and confidence issues
How do I book a session?
As a professional Counsellor and CBT Therapist, you can book a private session with Alexandra Bacon in her clinics in Cromford, Derbyshire, Derby and Ashby-de-la-Zouch, Leicestershire or on Skype. To book your free 20 minute consultation, please contact us or phone (+44) 07950 568635